Organization was founded in July, 2000. Continuous activities of the Association Mink Tolmin include representing cultural, informative, creative, educational and international cooperation practice in the field of music, art, creative industries,  and film. The general aim and vision of Association Mink is the empowerment and optimization of cultural and social capital within the context of a region characterized by poor mobility infrastructure due to the geographic location. We counteract this infrastructure by inviting international artists to the region. We try to counteract population decrease & conservative social beliefs by bringing a "stream of difference" into the region focusing on a strong educational purpose for all inhabitants especially youth.  All our projects foster networking and alternative ways to develop and promote the region by combining contemporary arts, education, and digitalisation.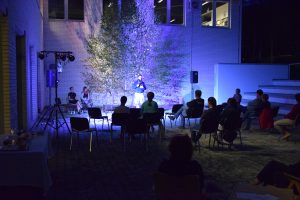 Association Mink Tolmin
In september 2021 we produced a storytelling workshop under the supervision of musician/storyteller Renata Lapanja.
Read More »