360 degree exhibition: Karl Klucsarits
Due to the Corona pandemic and another lockdown, exhibition spaces and galleries were not allowed to open to the public. As an alternative to a traditional exhibition, the organizer Art Mine moved the exhibit by Karl Klucsarits to a virtual space and made it accessible online. In this way, visitors can enjoy the three-dimensional exhibition experience from the comfort of their own homes. As shown in the images below, one can move through the room using arrows and also rotate 360° at each node. For a detailed view of the artworks, one only has to click on the camera-icon and the painting is presented in large format with subtitles. The virtual exhibition room enjoyed a high number of visitors and a lot of positive feedback.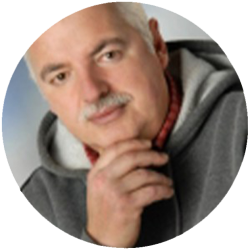 Karl Klucsarits was born in 1956 in Leoben, Austria. Beginning in his school days he taught himself to paint. For his work he uses many styles and techniques.
From 1981 he started working with oil colours on large sized wood panels. In 1994 he was admitted to the professional association of fine artists in Austria.
In the last 35 years Klucsarits participated in solo exhibitions, group exhibitions and competitions. He is winner of several international prizes.
10 years ago Klucsarits was diagnosed with Parkinson's disease. Thanks to good medication he can continue his high standard of painting.